Monitoring the First Year of the COVID-19 Pandemic in Louisiana
Rachel Weinstein
Published: Feb 18, 2021
Tracking COVID-19 in Louisiana
The severe acute respiratory syndrome coronavirus-2 (SARS-Co-2) was first detected in late 2019 and is responsible for the COVID-19 pandemic. This highly contagious and deadly disease quickly became an unprecedented public health crisis, worldwide. For months, management of COVID-19 was limited to infection prevention and control. Over time, major improvements have been made in testing accuracy and accessibility, treatment options, and vaccine developmenti.
The first presumptive positive case of COVID-19 in Louisiana was reported on March 9, 2020 and quickly spread across the state thereafter. By April 11th, every parish in Louisiana had at least one reported case. Louisianans wellness and livelihood continue to be at the mercy of COVID-19.
Confirmed cases and deaths in Louisiana over last 10 days
In the closing weeks of 2020, the first coronavirus vaccine was administered in Louisiana. While vaccines offer a clear solution to the COVID-19 pandemic, they will not single-handedly create a pathway to normalcy. The COVID-19 vaccines work by helping the immune system quickly identify the virus at the start of infection and prevent spread to the rest of the body. This significantly reduces the likelihood of infections developing into severe illness; thus, reducing hospitalizations and death. However, during this time the infected person may still be an asymptomatic carrier of the disease.
Reducing the length and severity of infection likely diminishes, but may not completely eliminate, transmission to othersii. The more COVID-19 spreads, the more quickly new strains will evolve. Preliminary research suggests currently available vaccines may be less effective against some new strainsiii iv. The CDC provides regular guidance and information on emerging COVID-19 variant strains.
The vaccine is an important tool to help prevent unnecessary illness and death, slow new strains from emerging, reduce the burden on hospitals and healthcare workers, and in providing the stability needed to build a new economy. Because high inoculation rates are necessary for vaccines to effectively slow the spread of infectious diseases, ensuring high participation rates among the state's nearly 4.7 million residents is paramount. Importantly, social distancing and mask wearing will continue to be as important as everv.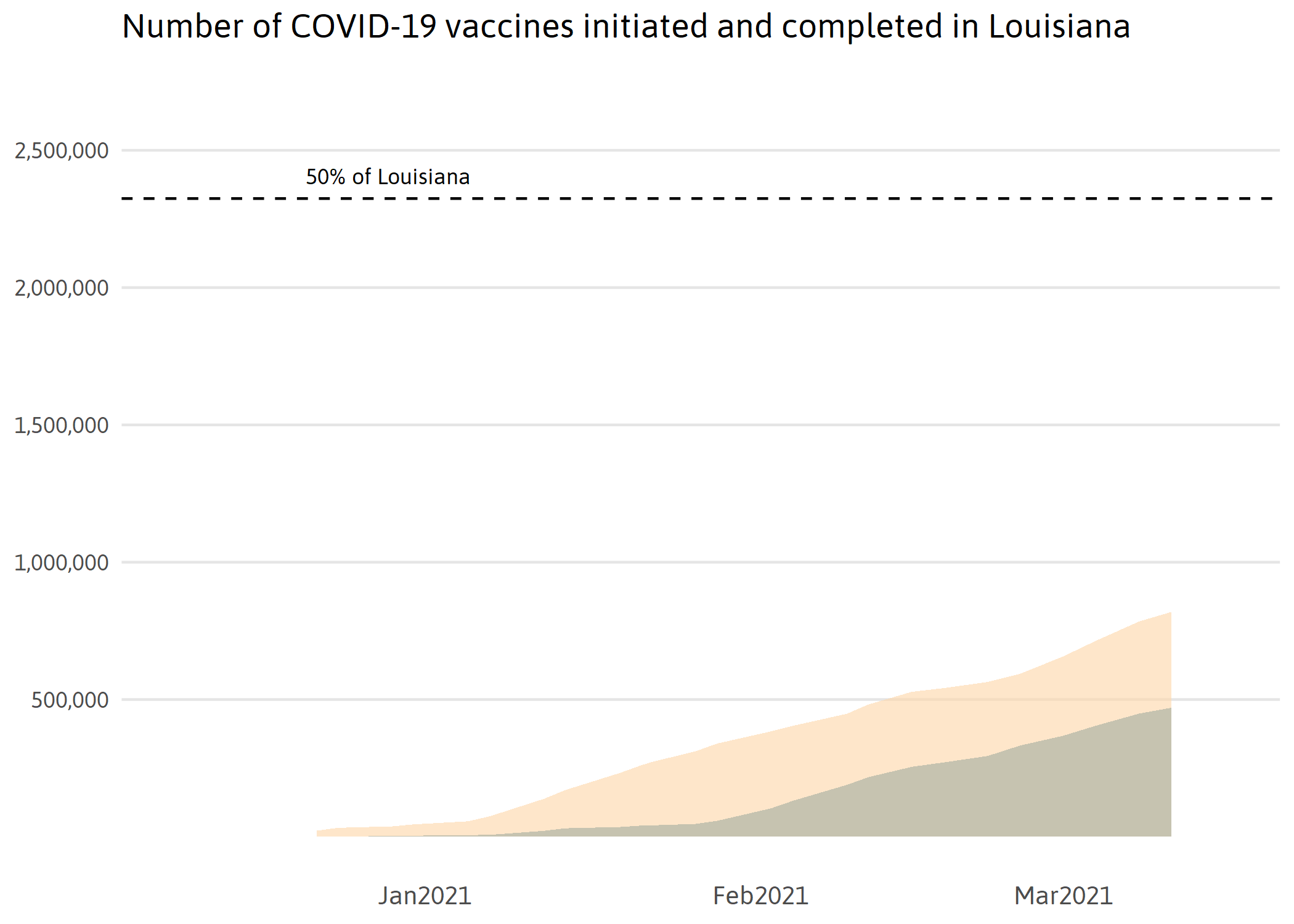 New cases and deaths are reported nearly every day by the state, but bottlenecks in processing tests and lags in reporting can cause delays. 7-day averages provide a clearer indicator than daily totals. Decisionmakers often wait for the 7-day average line to flatten before stating circumstances have improved.
The rate at which there are positive COVID-19 test results is an important indicator that can be used to determine whether Louisiana is adequately testing to detect cases. A high testing positivity rate indicates only the sickest patients are being tested while mild and asymptomatic cases are being missed. Lower positivity indicates sufficient testing capacity for the size of the outbreak. On May 12th, 2020, the World Health Organization advised governments that testing positivity should remain below 5 percent for at least 14 days before reopeningvi.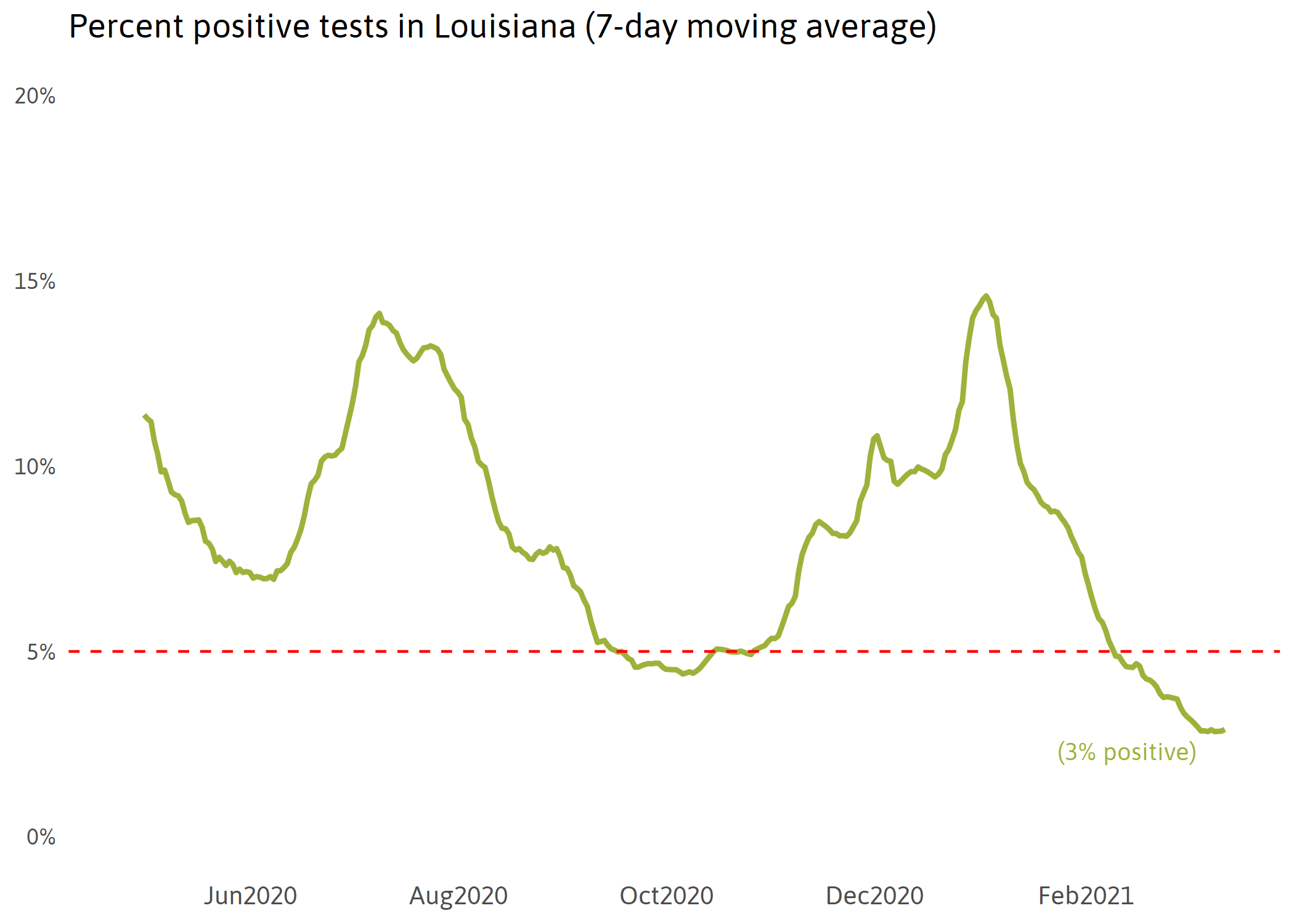 The first COVID-19 related death in Louisiana was reported on March 14th, 2020. Within one month, COVID-19 had killed more Louisianian's than the flu and pneumonia did in all of 2019. In fact, by the end of 2020 COVID-19 had killed more people than all other leading causes of death in the state besides cancer and heart disease.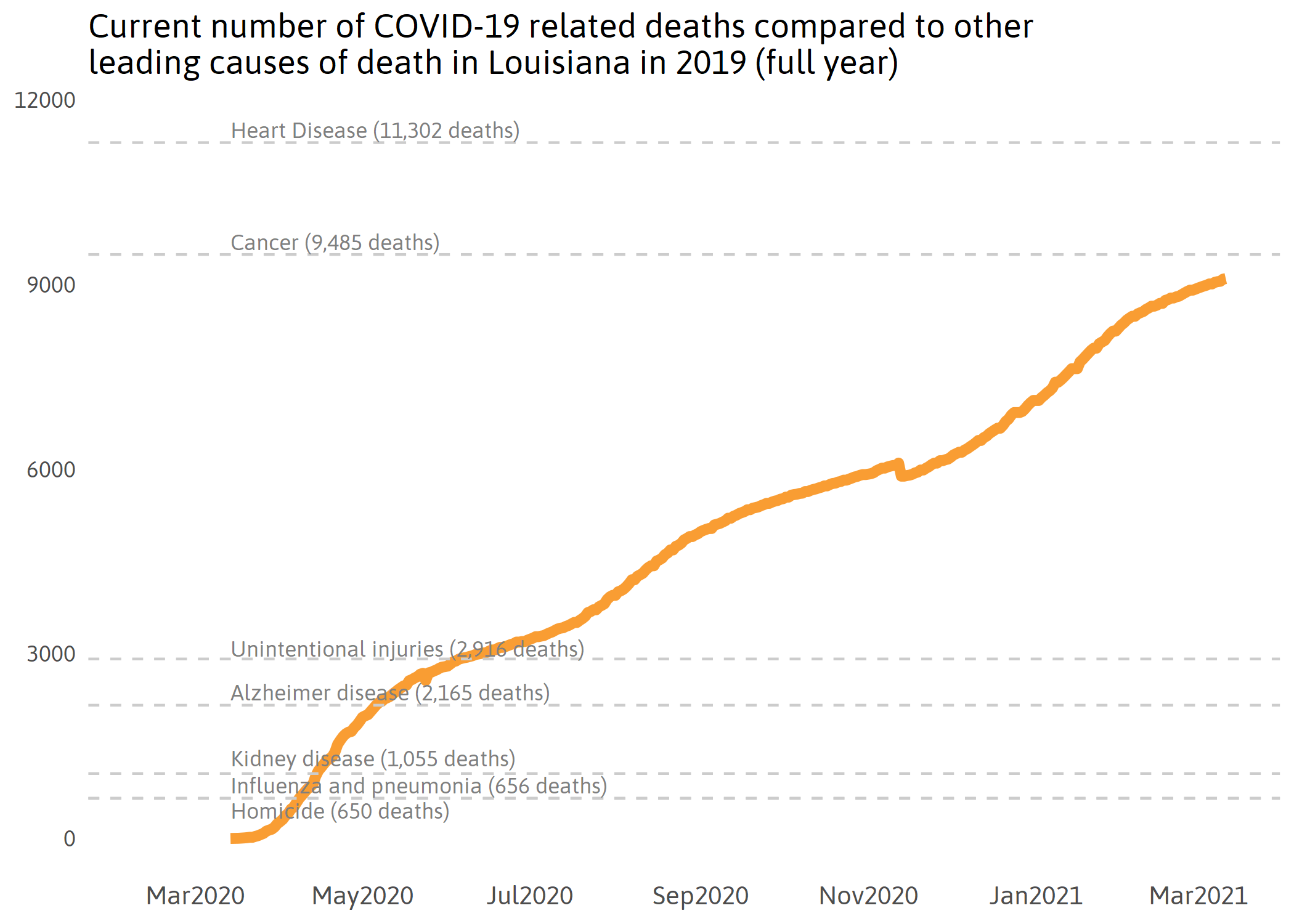 Orleans Parish was the epicenter of the state's outbreak. The city experienced one of the earliest and fastest outbreaks in the country. Research found that the genetic make-up of COVID-19 across Louisiana is remarkably similar. Supporting evidence suggests nearly 50,000 cases of COVID-19 in the region can be traced back to one domestic traveler who visited New Orleans two weeks before Mardi Gras 2020. Super-spreader carnival activities shaped the early COVID-19 outbreak in New Orleans, Louisiana, and indeed the entire countryvi.
Interpreting cases and deaths by population rate can be a useful tool to compare dissimilar geographies, but deceptive without the right information. Early on, St. John the Baptist Parish's high infection and death rate gained national attention. On April 10th, St. John had one-sixth the number of deaths as Orleans Parish but one-and-a-half times the rate of deaths per 100,000 residents. This is because the population of St. John Parish is much smaller, so the number of COVID-19 cases proportional to the population ranked it amongst the highest in the country. Understanding rates of cases and deaths, and not just the raw counts, is critical to understanding the impact of the pandemic in any region.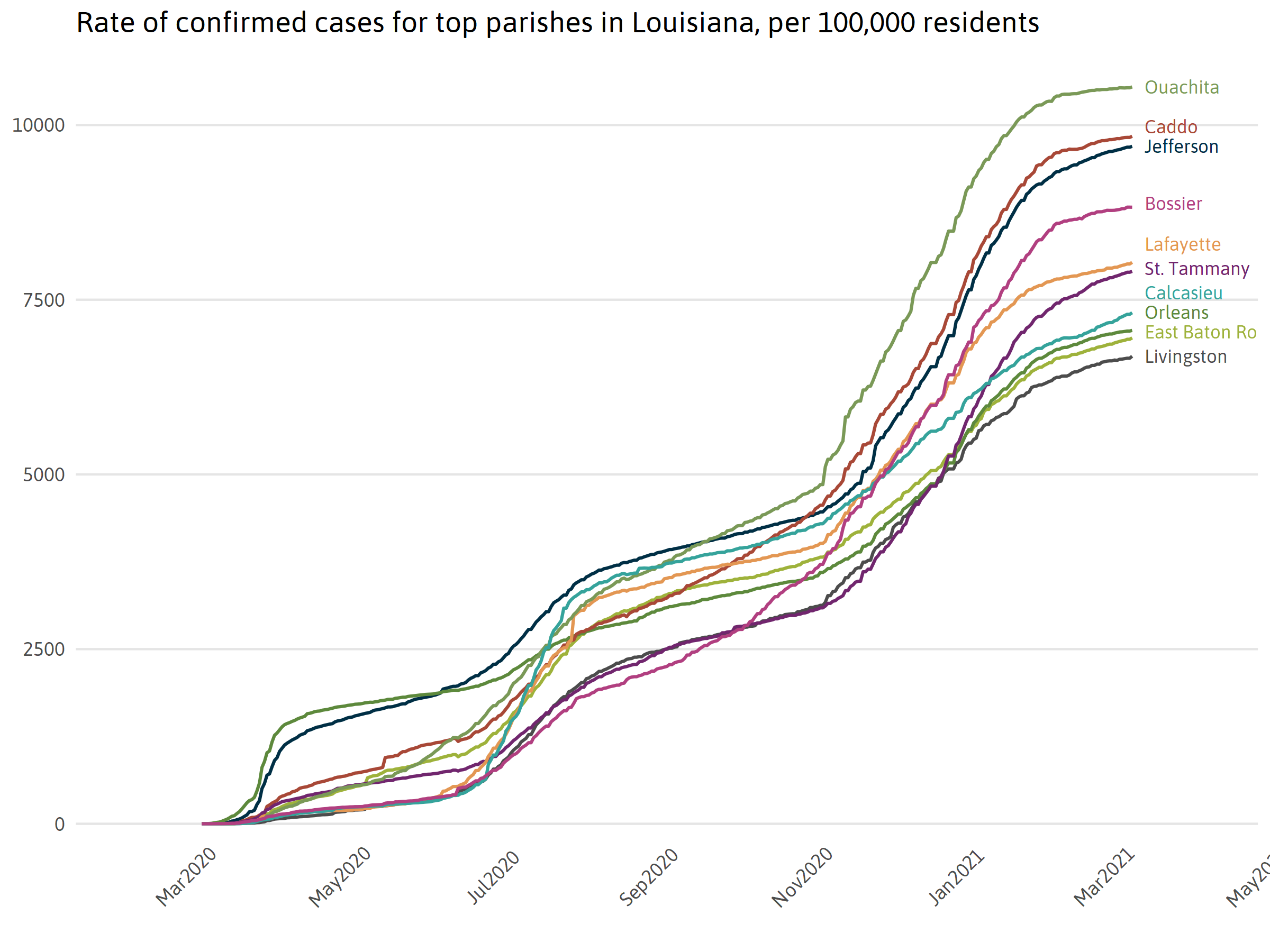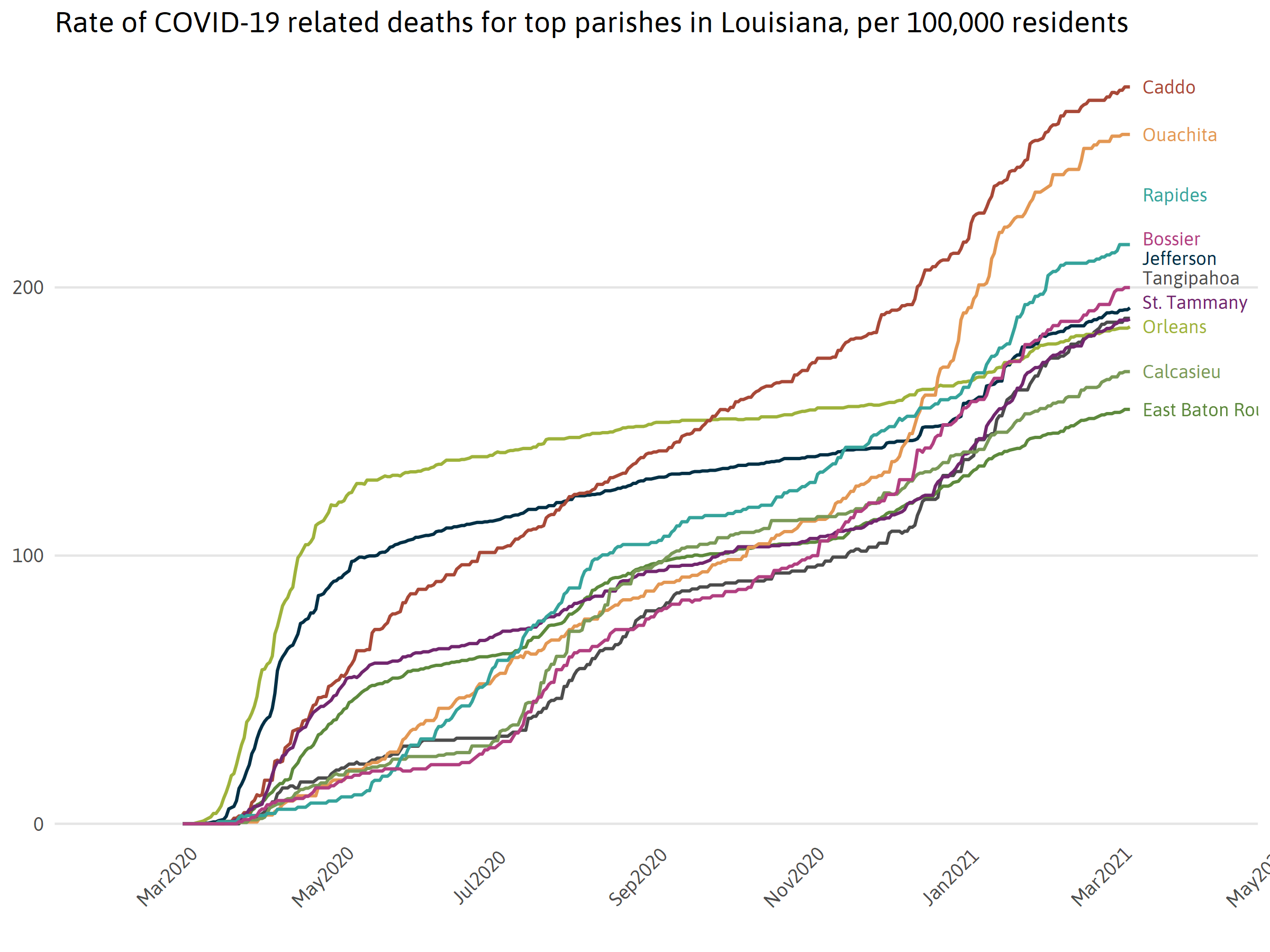 In Louisiana, people of all age groups have tested positive for COVID-19. However, young and middle-aged Louisianan's are responsible for the majority of cases. The elderly and those with pre-existing conditions are at a significantly higher risk of fatality. A recent study found that more than half of all transmission came from individuals without symptomsvii. Therefore, to protect our most vulnerable neighbors, it is vital for all people to follow the most up-to-date social distancing guidelines regardless of age, health status, or individual risk.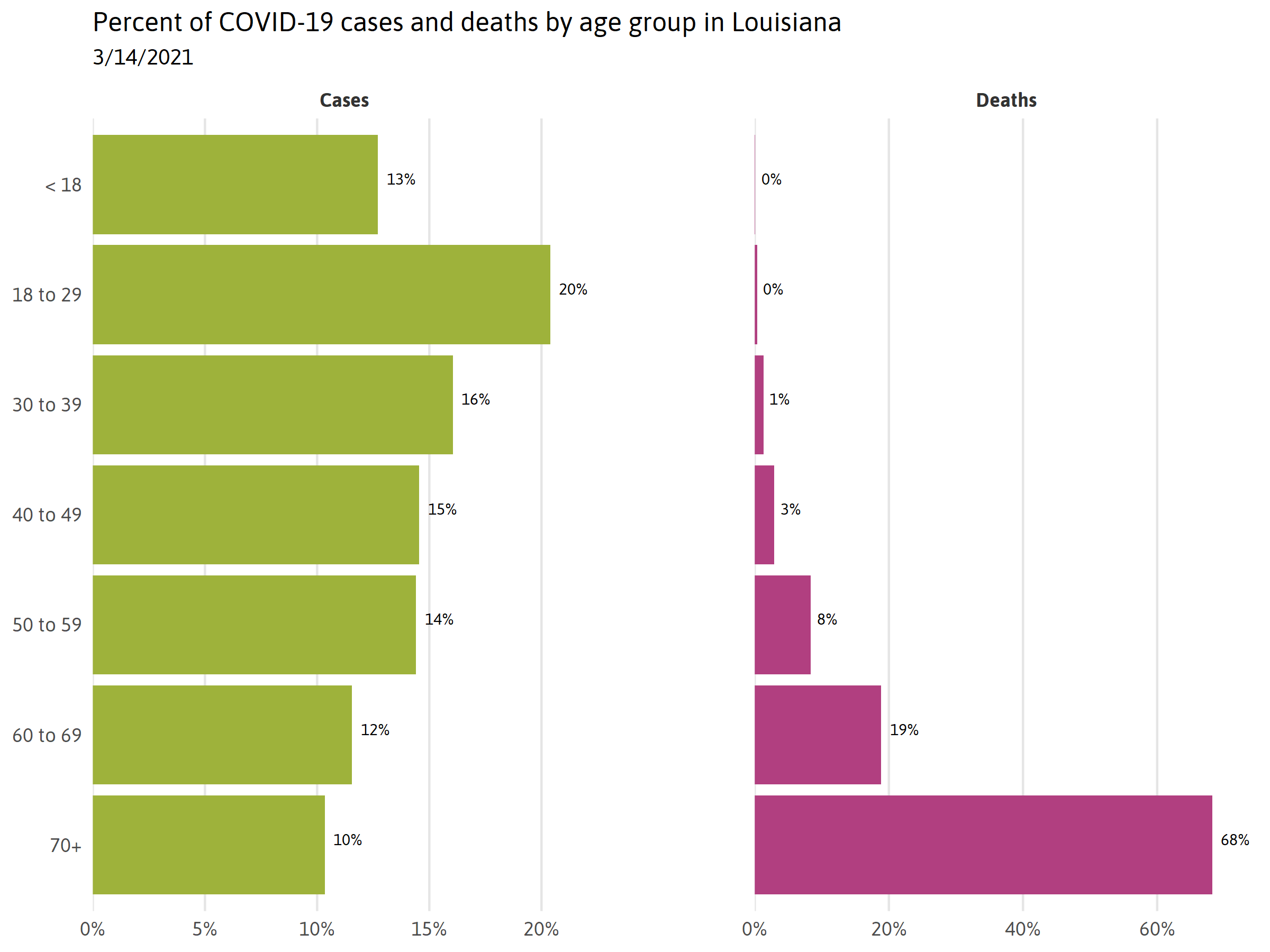 Information on new COVID-19 cases per week by age-group sheds light on specific groups or institutions that may be contributing to outbreaks at certain times. For example, between June and August of 2020, there was a clear increase in cases among 18-29-year-olds in Louisiana. This information allowed for more precise targeting for public health campaigns.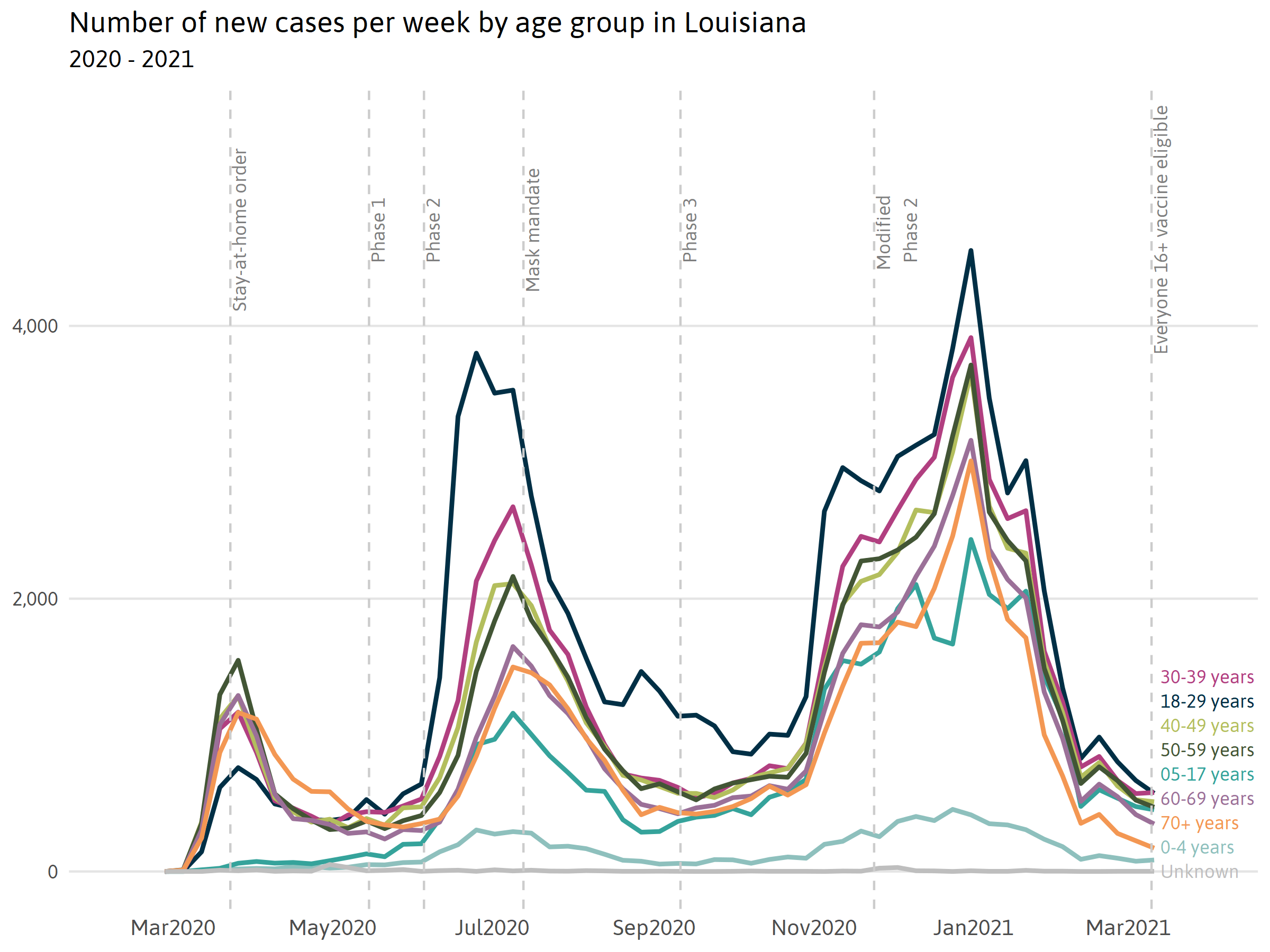 Nationally, racial and ethnic minorities have suffered disproportionately worse across the board from COVID-19 infections. Hispanic/Latino, Black/African American, American Indian/Alaskan Native, and Native Hawaiian and other Pacific Islander people have experienced higher risk of exposure to COVID-19, higher risk of severe illness from COVID-19, disparities in COVID-19 illness, disparities in COVID-19 hospitalizations, and disparities in COVID-19 deaths nationally. In addition, these groups have suffered worse from the unintended consequences of COVID-19 mitigation strategiesviii.
In Louisiana, racial disparities in COVID-19 deaths have been present since the start. Only 32 percent of Louisiana's population is Black, while 58 percent is White. Black Louisianans are dying of COVID-19 at a disproportionately high rate in Louisiana.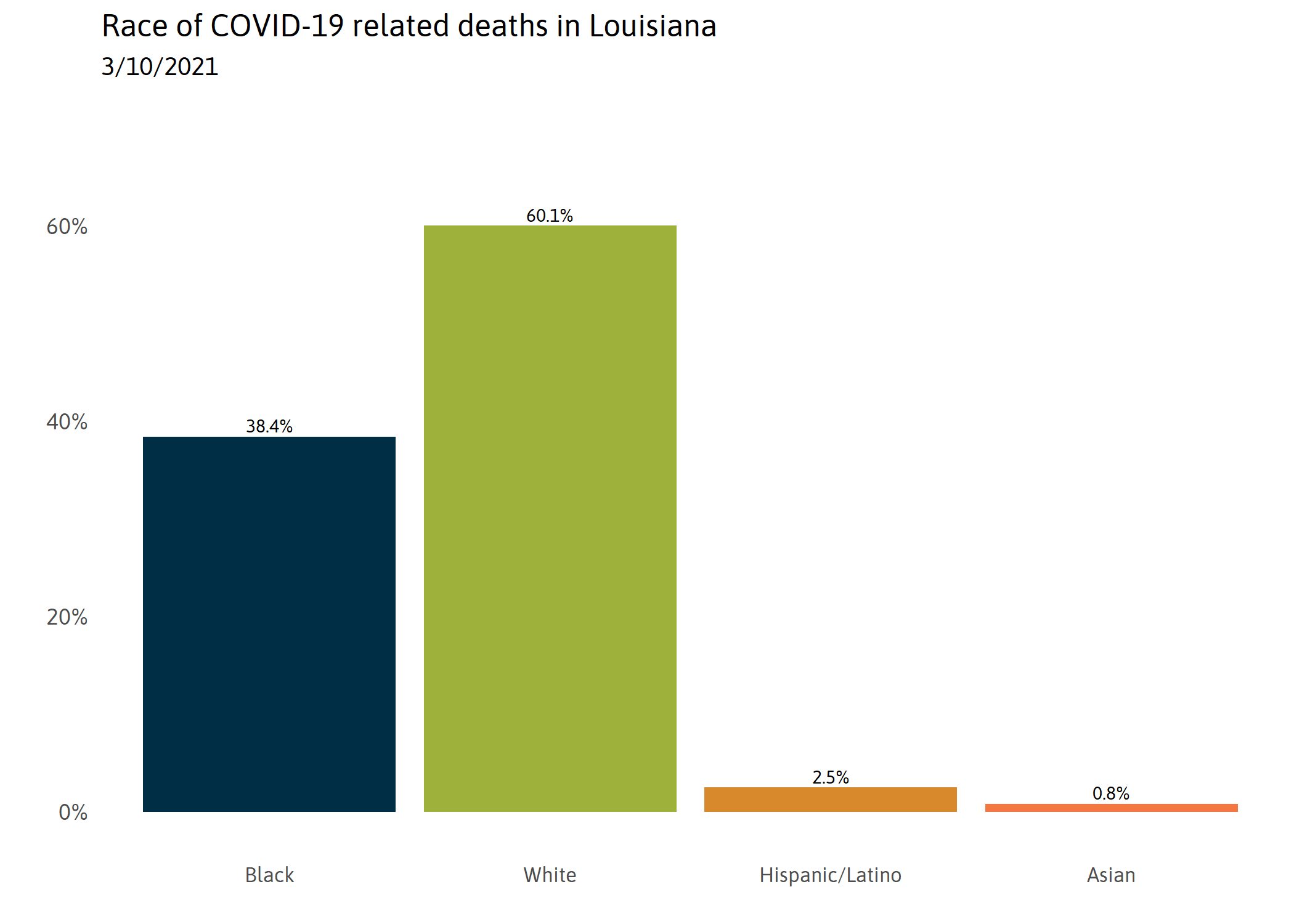 The true magnitude of the disparity in COVID-19 deaths by race is apparent when interpreted alongside state demographics. Among adults over 65 years of age, the riskiest age group for COVID-19 fatalities, only 25 percent of Louisiana's population over 65 is Black, compared to 70 percent White.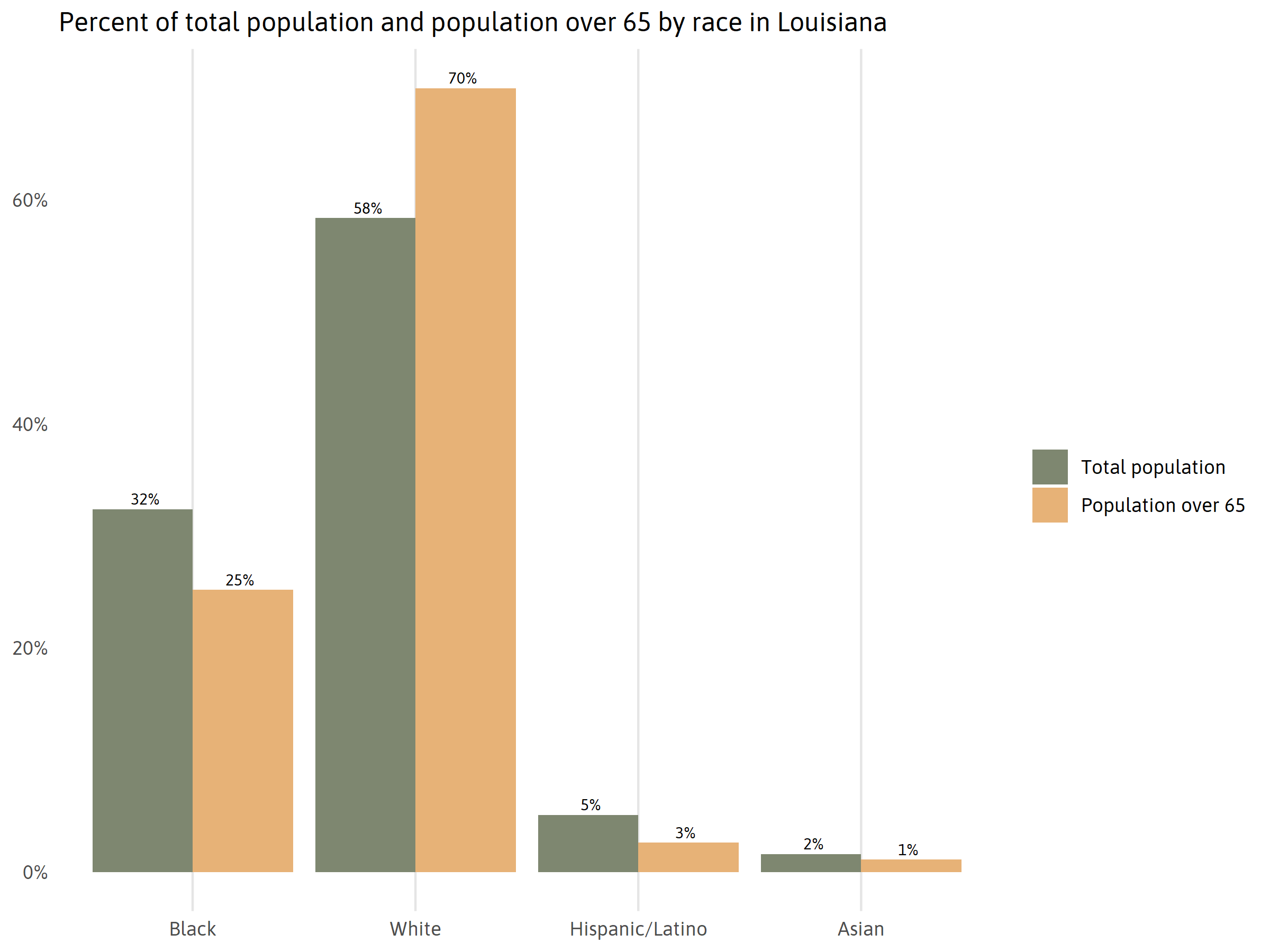 Certain underlying medical conditions have been found to increase the risk of severe illness from COVID-19. Research regarding COVID-19 and underlying medical conditions is still new and evolving. Conditions such as cancer, COPD, obesity, and diabetes have the strongest and most consistent evidence for increased risk of severe illness. Hypertension (or high pressure) was found to be the most common comorbidity present at time of COVID-19 related death in Louisiana. This may be, in part, because it is so common among those at highest risk of dying from COVID-19. In 2018, 68 percent of Louisiana's population 65 years and older had been diagnosed with high blood pressureix. For the most up-to-date information about COVID-19 and underlying medical conditions visit this page.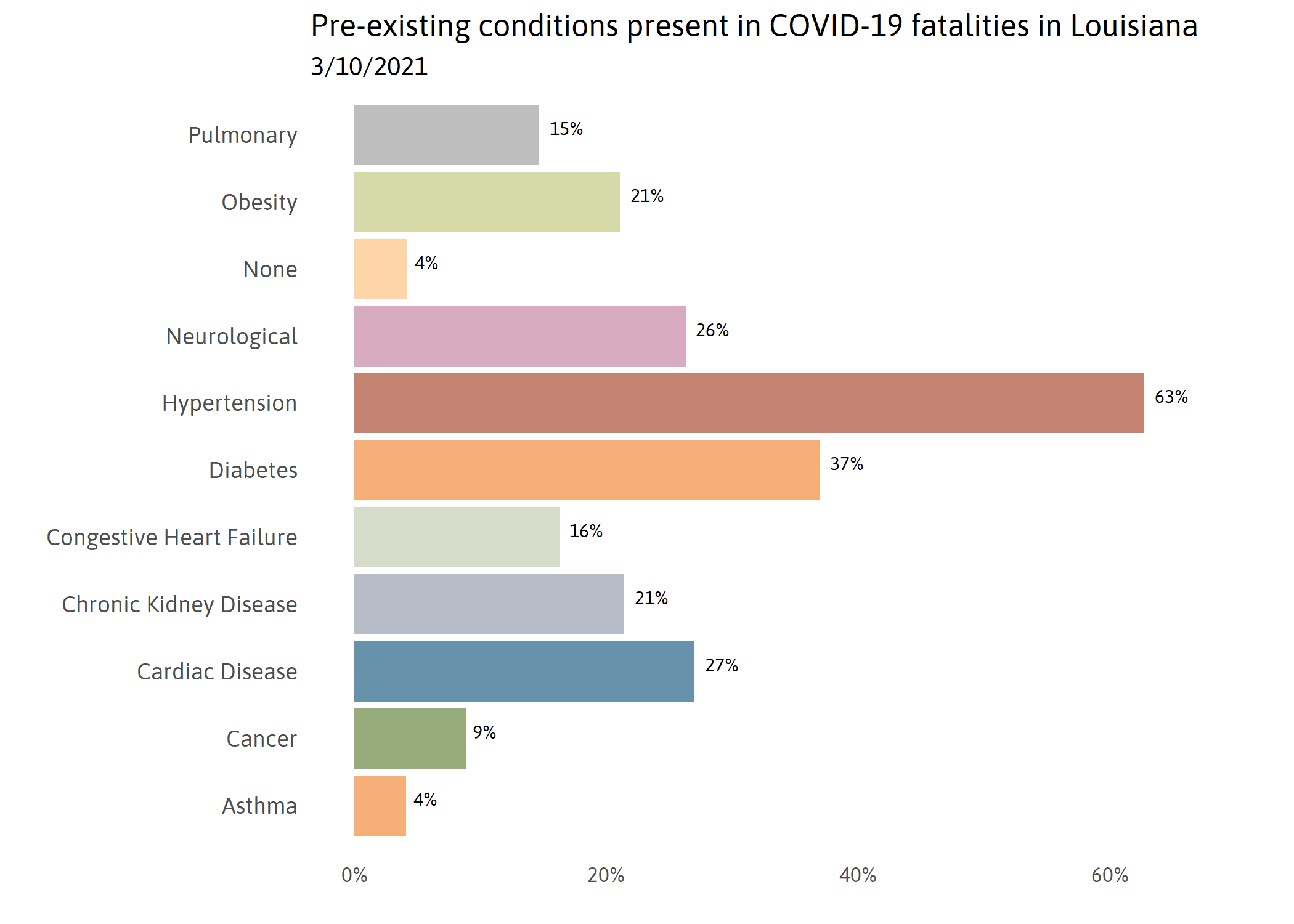 Sources
i Dos Santos W. G. (2020). Natural history of COVID-19 and current knowledge on treatment therapeutic options. Biomedicine & pharmacotherapy = Biomedecine & pharmacotherapie, 129, 110493. https://doi.org/10.1016/j.biopha.2020.110493
ii https://coronavirus.jhu.edu/vaccines/vaccines-faq
iii Wibmer, C. K., Ayres, F., Hermanus, T., Madzivhandila, M., Kgagudi, P., Lambson, B. E., … & Moore, P. L. (2021). SARS-CoV-2 501Y. V2 escapes neutralization by South African COVID-19 donor plasma. bioRxiv.
iv https://www.jnj.com/johnson-johnson-announces-single-shot-janssen-covid-19-vaccine-candidate-met-primary-endpoints-in-interim-analysis-of-its-phase-3-ensemble-trial
v https://www.cdc.gov/coronavirus/2019-ncov/vaccines/faq.html#mask
vi Johansson MA, Quandelacy TM, Kada S, et al. SARS-CoV-2 Transmission From People Without COVID-19 Symptoms. JAMA Netw Open. 2021;4(1):e2035057. doi:10.1001/jamanetworkopen.2020.35057
vii https://coronavirus.jhu.edu/testing/individual-states/louisiana
viii https://www.cdc.gov/coronavirus/2019-ncov/community/health-equity/racial-ethnic-disparities/index.html
ix United Health Foundation. AmericasHealthRanking.org. Retrieved April 10, 2020. Retrieved from: https://www.americashealthrankings.org/explore/annual/measure/Hypertension/state/LA